Ice Fishing Equipment
We are your premier source for top-quality ice fishing equipment and guided trips on Lake Minnetonka. Our expert team is dedicated to providing you with the best ice fishing experience possible, whether you're a seasoned angler or a first-time ice fisherman.
We provide all of the ice fishing equipment needed for your fully guided trip. Our equipment is carefully selected to ensure that you have the best chance of catching fish and having a great time on the ice. And our knowledgeable staff is always on hand to help you choose the right gear for your needs and offer tips and advice on how to use it effectively.
In addition to using premier ice fishing equipment, we provide instruction and guidance to help you improve your fishing skills and make the most of your time on the ice.  Our experienced guides know the lake inside and out and can take you to the best spots to catch fish.
So if you're looking for top-quality ice fishing equipment and expert guides on Lake Minnetonka, look no further than Jasper Guide Services. Contact us today to plan your next ice fishing adventure.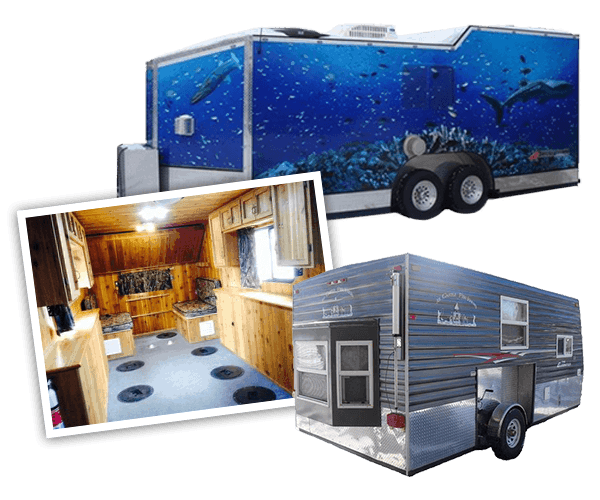 You'll Feel Like You're Fishing in Your Living Room!
Our luxury fish houses provide the perfect space for your next fishing experience. You'll feel like you're fishing from your living room with carpeted floors, interior cedar walls and digital TV.  To ensure they are some of the best fish houses on the lake, we do not rent our fish houses or allow for any overnight stays.  We provide fully guided ice fishing trips in our houses.
Digital TV with underwater
camera and sonar for
optimal fish viewing.