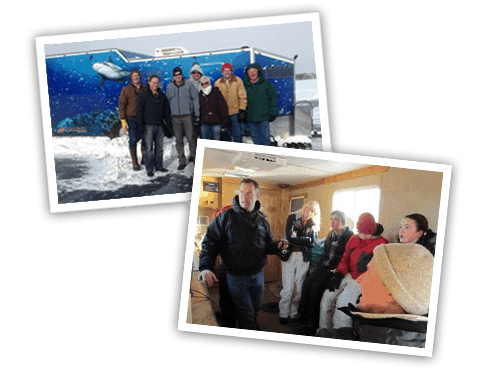 Private Corporate &
Family Ice Fishing Trips
Good Friends, Good Teams, Good Times
Looking for an unforgettable adventure for your family or corporate group? Consider a guided ice fishing trip! Our experienced guides will take you out onto frozen Lake Minnetonka and teach you everything you need to know about ice fishing to catch fish and make memories that will last a lifetime.
What is guided ice fishing?
Guided ice fishing is a unique experience where you and your group are taken out onto frozen Lake Minnetonka to catch fish. Our guides have years of experience and are experts at finding the best spots to catch fish. They will provide you with all the equipment you need, including rods, reels, bait, and tackle. They will also teach you how to use the equipment and provide helpful tips on how to catch the most fish possible, Lake Minnetonka ice fishing at it's finest.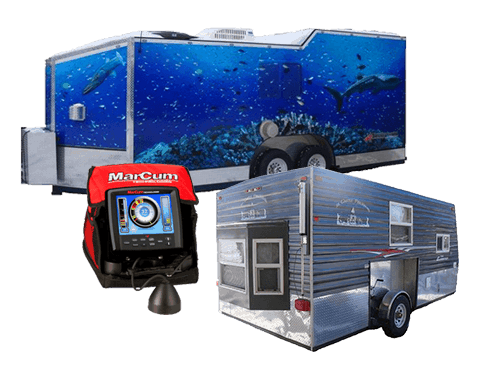 Fish Houses and Equipment
Lake Minnetonka Fish House Rentals with a Professional Guide
Our luxury fish houses offer the best opportunity to experience ice fishing on Lake Minnetonka in comfort and style. Plus we use the latest underwater cameras and flashers to bring you amazing views of the lake from under the ice!
____________________________________________________
Keep Scrolling For More Lake Minnetonka Fishing Fun!
____________________________________________________
Lake Minnetonka Fishing Guide
and other West Metro Lakes
Welcome to our Lake Minnetonka Fishing Guide website, where we are passionate about providing the best fishing experience for our clients. Captain Dan is one of the most experienced fishing guides on Lake Minnetonka and is dedicated to ensuring that you have a memorable, successful and fun fishing trip. Being a fishing guide is his profession and he takes it seriously.
Lake Minnetonka is a popular fishing destination in Minnesota, known for its wide range of fish species, including Bass, Northern Pike, Muskie, Crappie, and Walleye. Dan lives on Lake Minnetonka and has years of experience fishing on this lake, and knows the best spots to catch fish.
Family and Private Group Fishing
Fishing in your private Pontoon Boat
Whether you are a beginner or an experienced angler, our fishing guides are here to help you have a great time on Lake Minnetonka. We offer guided fishing trips for individuals, families, and groups of all sizes. We can customize our fishing trips to meet your specific needs and interests.
Get your family, friends or corporate group out fishing in our fishing pontoon boat. Sit back, relax and enjoy a day on Lake Minnetonka with a professional fishing guide. We provide everything, rods, reels, tackle and bait.  Show visiting family or friends beautiful Lake Minnetonka from the water and get some fishing in at the same time!
A Loaded Tournament Boat
State of the Art Equipment
As a fishing guide, Dan uses state-of-the-art equipment and the latest fishing techniques to help you catch more fish.  He provides everything you need for a successful fishing trip, including fishing gear, bait, and tackle.
Fish like a pro in this top of the line Skeeter tournament fishing boat. From the Minnkota 101lbs 36 V trolling motor and two talons for shallow water anchoring to the 10″ jackplate holding the 250 HP Yamaha SHO, this boat is set up for comfort and the ultimate fishing experience. This is not your typical fishing guide boat.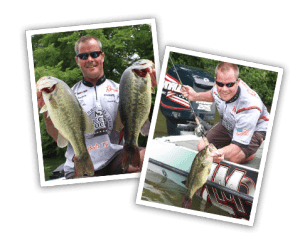 Captain Dan Jasper
A Licensed Coast Guard Captain and Full-Time Fishing Professional
Dan grew up fishing on the lakes and rivers of Minnesota and Wisconsin. Over the past 20 years, Dan has fished all over North America, from Alaska to Costa Rica fishing both fresh water and salt water. As a Lake Minnetonka Fishing Guide, Dan believes in sustainable fishing practices. Dan works to preserve the natural beauty of the lake and its ecosystem while still providing clients with a fantastic fishing experience. We ask that all our clients respect the environment and follow fishing regulations to protect the lake and its wildlife.